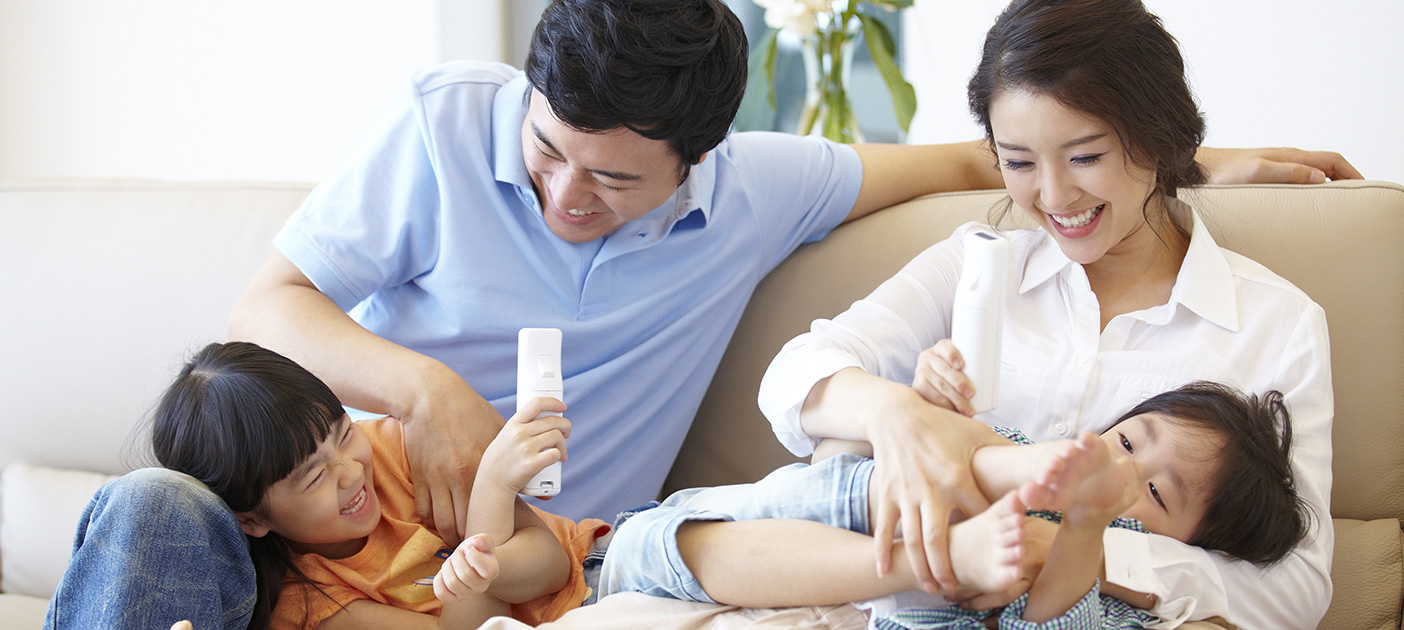 At a Glance

Guaranteed premium return at the end of contract period
100% premium return.

No Cost of Insurance
No insurance fees.

Loyalty bonus every 5 years up to 160% of the annual premium rate
Terms and condition apply.
 
Features & Benefits
Features:
The insured's entry age is from 6 months - 50 years.

In Rupiah currency.

Premium payment period 5/10/20 years.

Investment allocation from the first year.

Guaranteed Issued with a health statement*.
Main Benefits:
Guaranteed premium return at the end of the contract period.

Loyalty bonus every 5 years up to 160% of the annual premium paid*.

Protection against the risk of death up to 70 years of age.

Protection against the risk of total permanent disability up to 65 years of age.

The premium payment period varies from 5, 10, 20 years.
Additional Benefits:
Health Safe (HS) - Provides reimbursement benefits for hospital care costs caused by illness or accidents.

Manulife Crisis Cover (MCC) - Provides benefits in the form of compensation if the Insured is diagnosed with one of 56 critical illnesses.

Payor Benefit (PB) - Provides premium exemption benefits for Premium Payers (Payor) if the Premium Payer (Payor) experiences a Permanent Total Disability / Death.

Accidental Death and Disability Benefit (ADDB) - Get compensation for death or total permanent disability due to an accident

Advanced Life Protector (ALP) - Get compensation for death with a choice of premium payment terms
*terms & conditions apply
 
Illustration
At 25 years old, Arista agrees to join the Manulife Lifestyle Protector with a 5-year premium payment term, and coverage of IDR125,000,000. The chart below illustrates the benefits that she can enjoy.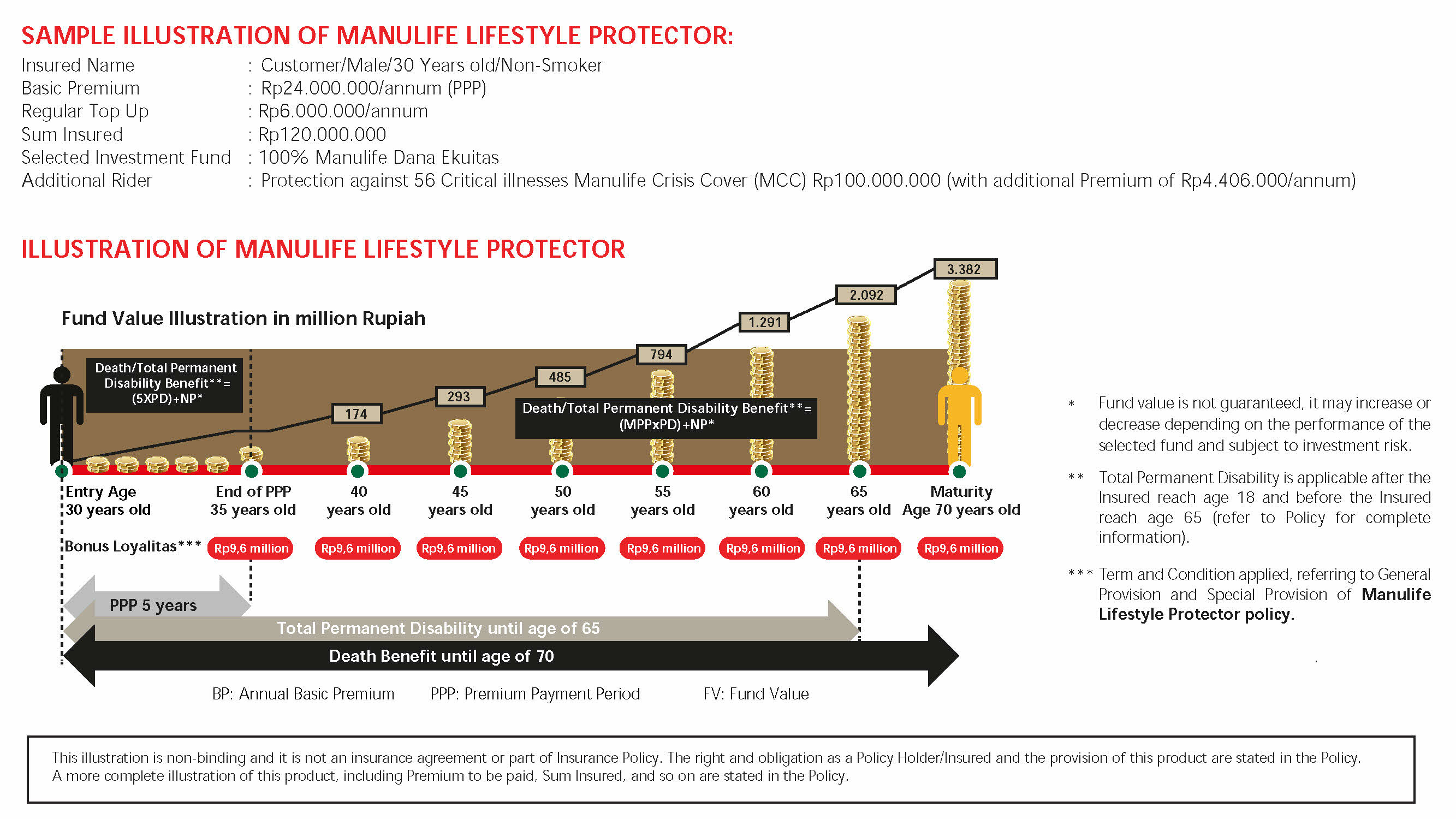 Costs
Administration fee: IDR 30,000/month.

Payment of administrative fees will be deducted from the investment fund of the Basic Insurance program.

Fund management fee is 1.25% to 2.5% per year of the total managed fund.

Switching fee (change in investment fund allocation) IDR 50,000 for the fifth change and so on within one policy year (the first to fourth change of allocation is free of charge).

The amount of the acquisition fee is based on the Premium Payment Period chosen by the Customer

All charges are subject to the general and specific provisions of the policy. This fee includes commission fees for the Bank.
Risks
Market Risk
Unit prices will follow market price fluctuations. This will be seen in the volatility of the unit price and will cause the possibility of an increase or decrease in investment value.
Operational Risk
A risk caused by the failure or failure of internal processes, people, and systems, as well as by external events.
Credit and Liquidity Risk
Policyholders will be exposed to credit & liquidity risk of PT Asuransi Jiwa Manulife Indonesia ("Manulife Indonesia") as a risk selector for insurance products. Credit & liquidity risk relates to the ability of PT Asuransi Jiwa Manulife Indonesia to pay obligations to its customers, as well as the risk of default from investment instrument issuer.
Unit Link Insurance Risk
The level of insurance risk for Unit Link products can be seen in the Personal version of the Summary of Product and Service Information for Unit Link products or offer proposals that can be obtained from Marketers.
Early Termination of Policy
Early termination of the Policy may result in the Policy Value being less than the benefits paid (if any) or the premiums paid and the coverage ending.
IMPORTANT NOTE
Manulife Lifestyle Protector is an insurance product issued by Manulife Indonesia. This product is not a deposit product at Bank DBS Indonesia and therefore does not contain any obligations and is not guaranteed by the bank and is not included in the government guarantee program of the Deposit Insurance Corporation ("LPS").
Bank DBS Indonesia only acts as the party referencing this product where the use of logos and/or other attributes in brochures or marketing documents is only a form of cooperation between Bank DBS Indonesia and Manulife Indonesia so it cannot be interpreted that this product is a product of Bank DBS Indonesia.
PT Bank DBS Indonesia and PT Asuransi Jiwa Manulife Indonesia are licensed and supervised by the Financial Services Authority (OJK).
Thank you. Your valuable feedback will help us serve you better.
Was this information useful for you?
Thank you for your valuable feedback
Let us know how this article helped:
We're so sorry to hear that.
How can we do better for you?

Please enter only a-z,A-Z,0-9,@!$-(),.?