Tentang DBS BusinessClass
Tentang DBS BusinessClass
DBS BusinessClass dirancang untuk usaha kecil dan menengah (UKM). Komunitas yang membantu Anda dalam mengembangkan usaha dan jaringan bisnis Anda di seluruh kawasan, menerima tren pasar terbaru serta mendapatkan akses eksklusif ke komunitas bisnis di Asia yang berpengetahuan luas. Terlibat dengan penasihat bisnis kami dan dapat menghadiri networking event untuk bertemu key business influencers, termasuk venture capitalists, Spesialis UKM DBS dan pelaku industri dari seluruh Asia.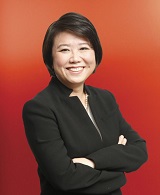 "DBS BusinessClass allows SMEs to access networking opportunities across the region. We hope to provide business owners with the advice, insights and connections to build their business and sharpen their competitive edge."
Joyce Tee
Regional Head of DBS SME Banking
Apakah informasi ini berguna?