Requirements of Mutual Investments at DBS Treasures?
Minimum 18 years old

Have e-KTP (electronic identity card)

Have an account with DBS Treasures priority banking

Fill the "Mutual Funds Transaction Form" and "Risk Profile Questionnaire – Terms and Conditions of Mutual Funds and Foreign Exchange Investment Product"
What is the Minimum Investment in Mutual Funds?
The minimum value of Mutual Fund transactions at DBS Treasures differs depending on the type of product and the minimum unit of participation set by the Investment Manager.
How Long is the Mutual Funds Investment Period at DBS Treasures?
The Mutual Funds investment period varies, and you can choose the ones suitable to your investment goals. The recommended investment period is approximately 1-3 years, 3-5 years, depending on the product you buy and the financial goals you want to achieve. However, you can sell the product or redeem your investment at any time.
What is the Return on Mutual Funds Investment?
Based on historical data, Mutual Funds have the potential return of around 7% to 8% per year. Even the average can reach 9%. Of all types of Mutual Funds, Money Market Mutual Funds have the lowest potential return, which is around 4.5% to 5.5% per year. However, this is also in line with the risks of each type of Mutual Fund.
Comparison Chart Between Types of Mutual Funds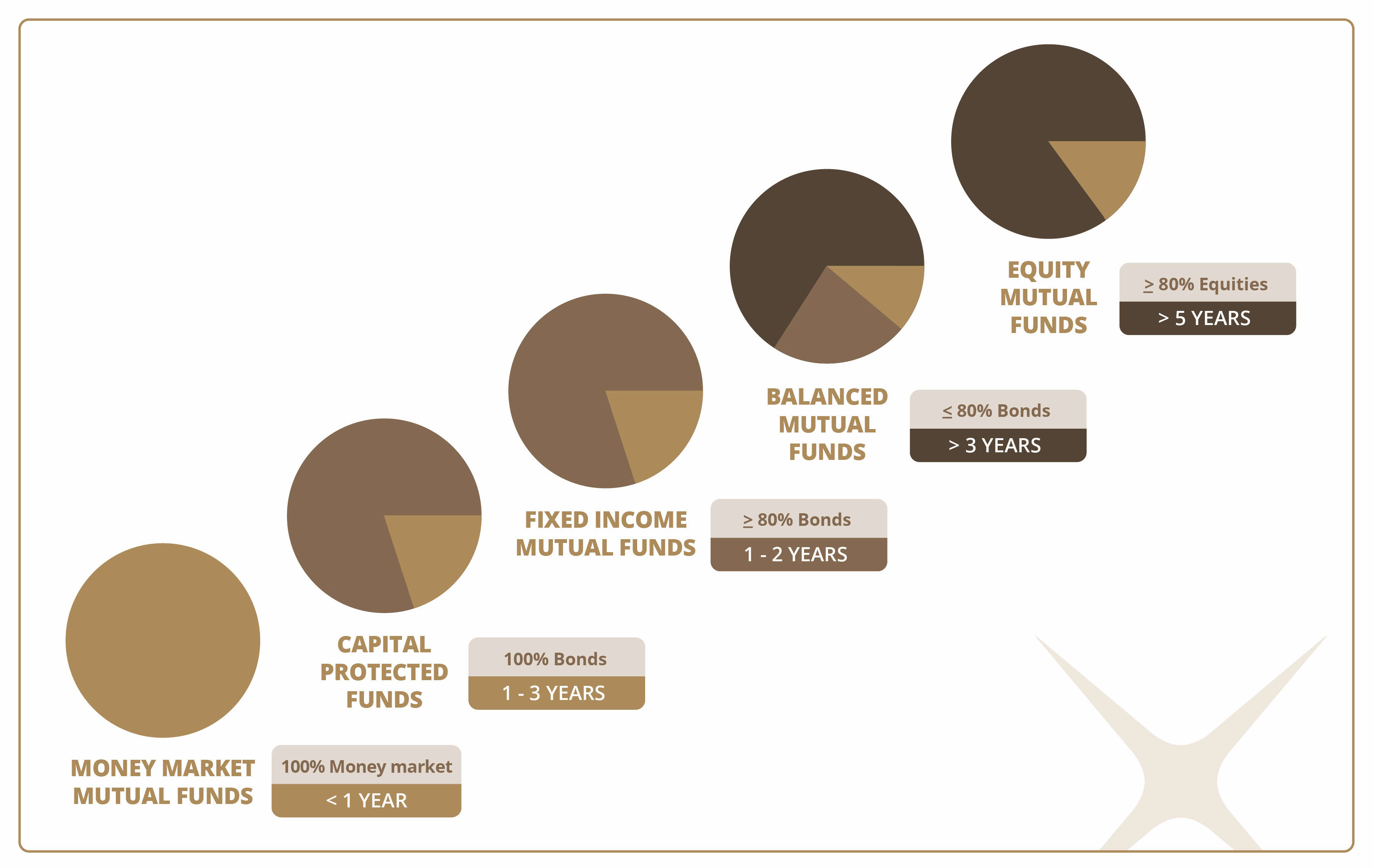 What are the Risks of Mutual Funds Investment?
Impairment Risk
One of the causes of Mutual Funds fluctuations is the changing value of the assets in it. Equity Mutual Funds have a high risk because equities can fluctuate in the short term. In contrast to Money Market Mutual Funds, which have low risk because the portfolio includes Fixed Deposits and Bonds that matures in less than a year.

Liquidity Risk
Liquidity is related to the process of disbursing Mutual Funds. This risk arises when the Investment Manager is late in providing funds to pay for the redemption made by the investor.

Default Risk

This risk is known as credit risk or default. This happens if the Investment Manager's business partners fail to fulfil their obligations. The risk of default certainly affects the performance of the Mutual Fund.

Economic and Political Risks

Economic and political developments, both locally and globally, also have an effect. Either to the government policy or the views of investors. Therefore you need to pay attention to its development.
DISCLAIMER
Prospective investors need to understand the risks, must read and understand the prospectus before deciding to invest in Mutual Funds, as past performance cannot be used as a benchmark for future performance.
What is the Purpose of Investing in Mutual Funds?
For emergency fund needs can be categorised for Money Market Mutual Funds.

For short - medium term needs, can be categorised for Fixed Income Mutual Funds.

For medium to long term needs, can be categorised for Balanced Mutual Funds, and.

For long-term needs - can be categorised for Equity Mutual Funds investment.
How Do Mutual Funds Work?
Investment Manager will gather and manage funds from Clients.

The total funds that have been gathered will be invested in a number of investment instruments as stated in the prospectus.

Clients will receive a report on a regular basis from the Investment Manager about the funds invested.
How to Invest in Mutual Funds with DBS Treasures?
Make sure you use funds that have been allocated specifically for investment.

If you are a new investor, you can easily create an investor identity (SID) via the digibank by DBS Application.

Discuss your risk profile and investment strategy with DBS Treasures Relationship Manager.

Choose the right product in the digibank by DBS Application based on tthe categories of Best Performance, Most Popular, and Best Scoring as analysed by Infovesta.
You can enjoy the benefits of investing in Mutual Funds by becoming a priority banking Client of DBS Treasures, minimum fund placement of IDR 500 mio. Gain a wealth management strategy that is personalised and consistently communicated to you, so you can confidently make the right move at the right time.