At a Glance


Investment management by professionals
Our investment options are managed by leading Investment Managers to guarantee optimal performance.

Get insights to guide you investing
We are here to guide you in your investment journey.

Reducing risk through diversification
Diversification aims to reduce risk by investing in various types of investment assets.
 
Features

Mutual fund is a promising investment alternative for beginners in investment. You can start with only a small amount of capital in mutual fund products which are professionally managed by the Investment Manager and are registered with and supervised by the Financial Services Authority (OJK).
What is a Mutual Fund?
A mutual fund is a pool of money managed by an Investment Manager and allows investors to invest their money in equity, bond or other types of investments as described in the prospectus.
Types of Mutual Funds:
Money Market Fund - an investment with a portfolio consisting of short-term assets or assets with maturity less than one year, having high quality and liquid debt in nature.
Fixed Income Fund - a mutual fund with a portfolio dominantly invested in fixed income instruments, such as securities and bonds, for medium and long-term investments.
Balanced Fund - a mutual fund invested in various instruments, such as money market, bonds and stocks.
Equity Fund, a mutual fund dominantly invested in stock of companies listed on the stock exchange.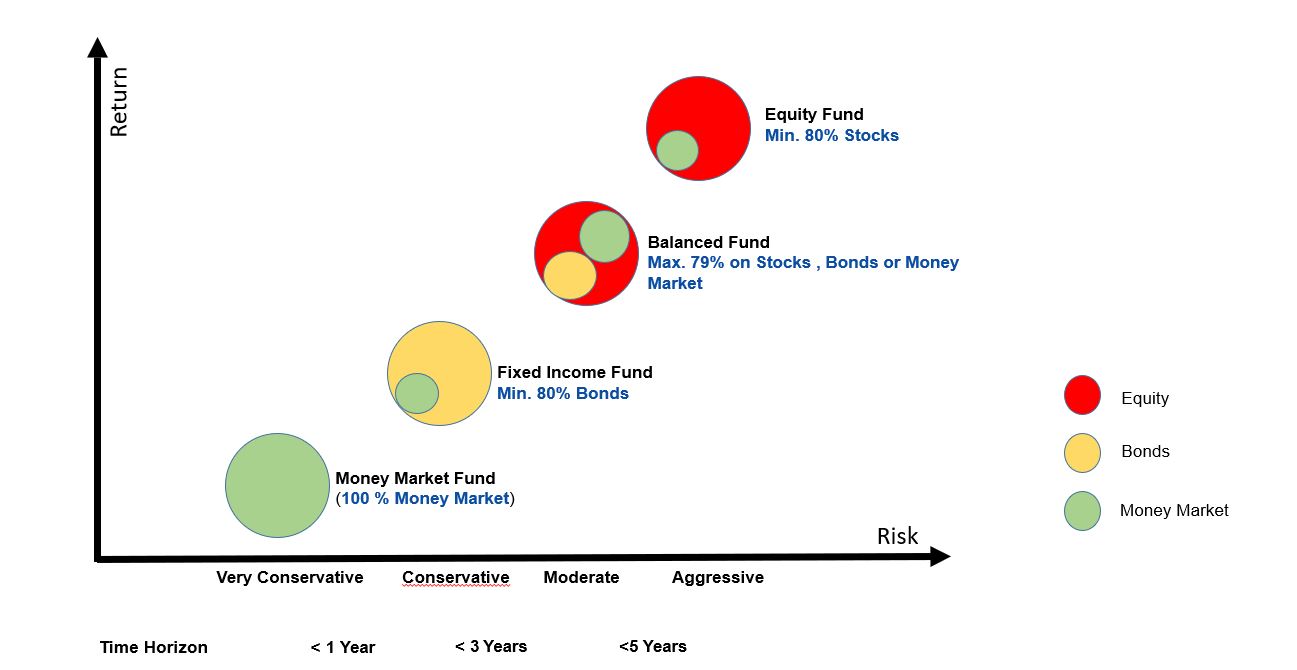 Benefits
Benefits of Mutual Funds:
Increased diversification: Funds are managed by diversification of ownership of various instruments; diversification can reduce investment risk.
Daily liquidity: Mutual fund holders can sell their units at the day's net asset value.
Professional investment management: Mutual funds are managed by portfolio managers who supervise investment funds.
Ability to participate in investments that may only be available to investors with larger funds.
Government supervision: Mutual funds are regulated by the government.
Transparency and ease of comparison: All mutual funds must report the same information to investors, so investors can easily make comparisons of different mutual funds.
 
How to Apply
If you need further information, our Relationship Manager will contact you,
Terima kasih atas masukan Anda
Apakah informasi ini bermanfaat?
Terima kasih atas masukan Anda
Bagaimana informasi ini membantu Anda?
Mohon maaf atas ketidaknyamanan ini
Beri kami masukan untuk kemajuan halaman ini

Mohon hanya menggunakan a-z,A-Z,0-9,@!>$&-()',./