ESG, SRI, and Impact Investing
ESG, SRI and impact investing are industry terms often used interchangeably, with the assumption that they all match in meaning and approach. However, distinct differences exist that will affect how client portfolios should be structured and which investments are suitable for meeting social impact goals.
View this video to learn more about the differences.




Memahami dan menggunakan penilaian ESG



According to a survey by SustainAbility1, there are approximately 600 independent ESG ratings and rankings existing globally as of 2018. However, there is still no standard approach to-date, as agencies adopt different methodologies when rating an investment product.





At DBS, we have adopted MSCI ESG Ratings (which cover equities, bonds and funds) to provide clients with greater transparency over the ESG characteristics of their investment portfolios.
Designed to measure a company's resilience to long-term, financially relevant ESG risks. The methodology aims to:
Identify significant ESG risks and opportunities facing a company and its industry
Determine the company's exposure to those risks and/or opportunities
Determine the company's management of those risks and/or opportunities
Ascertain the overview of the company, in comparison to its global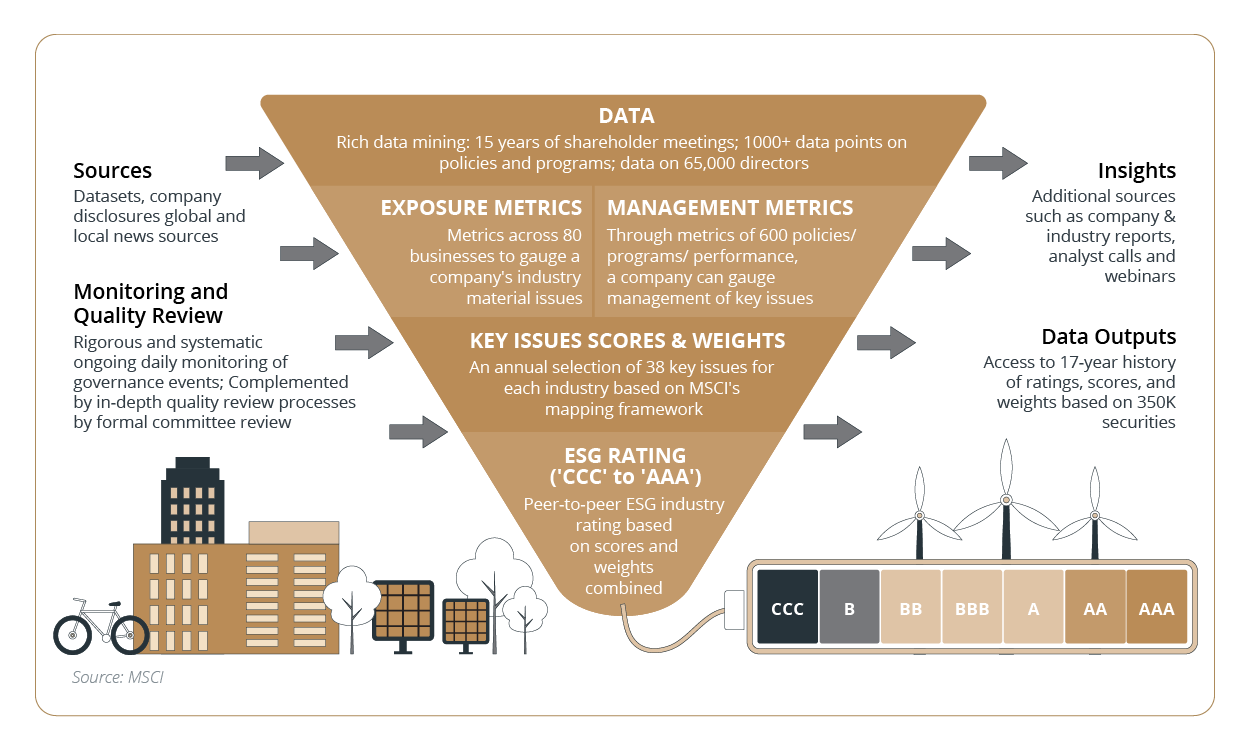 MSCI uses a 'CCC' to 'AAA' scale to rate companies (ESG risk exposure and management, relative to industry peers), funds and ETFs (ESG characteristics of the portfolio). Here's what you need to know about the different approaches and ratings: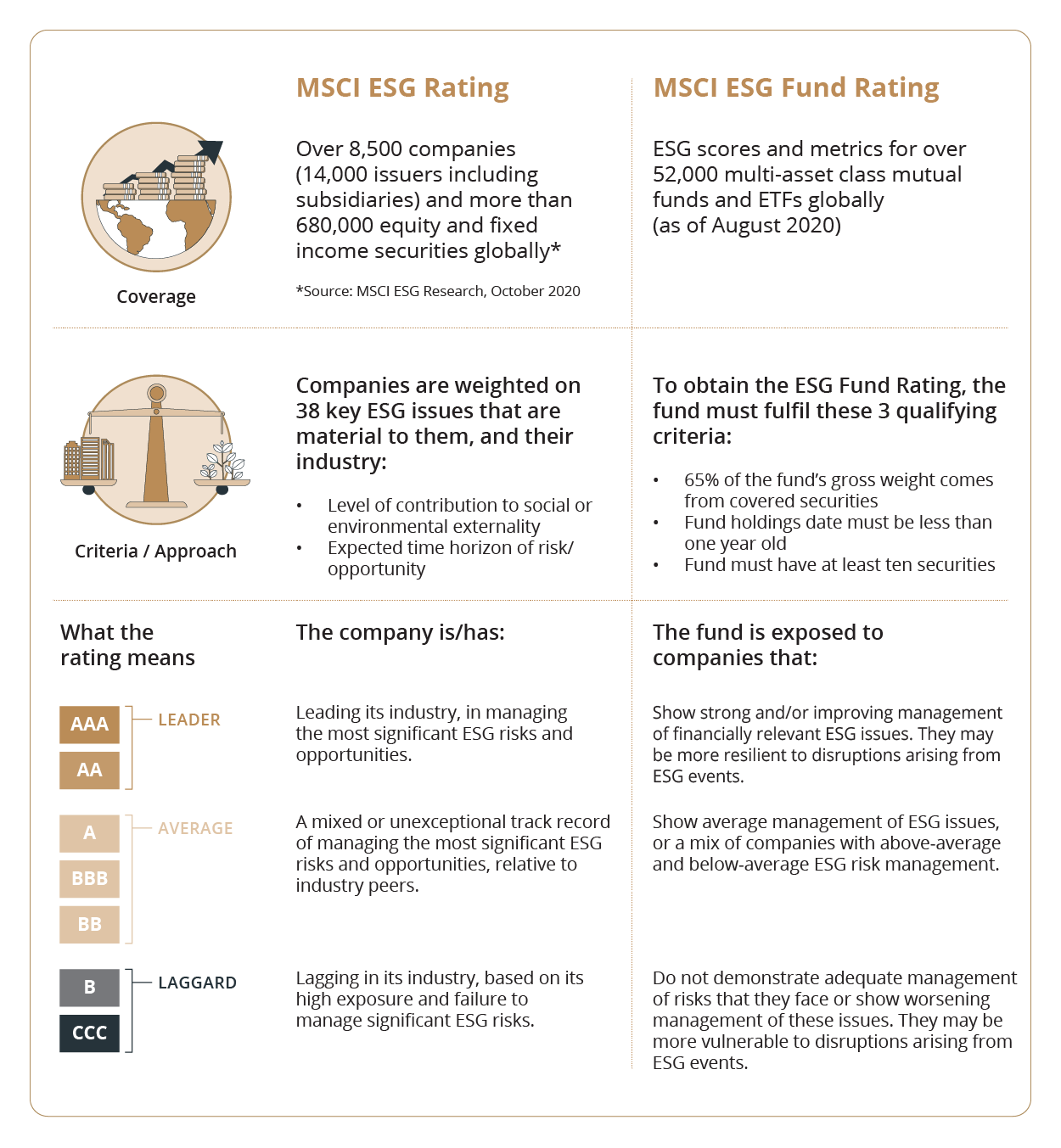 Adding an ESG lens can help you identify fundamental sustainability risks, not picked up by conventional financial analysis.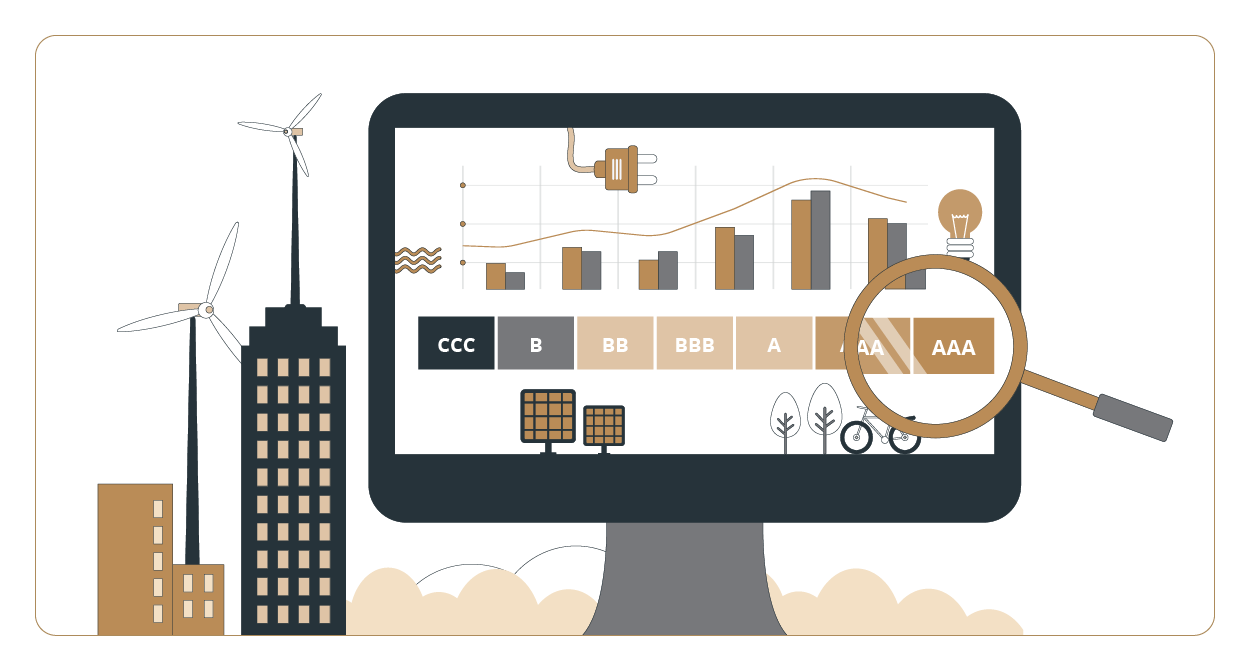 Sieve out companies with stronger MSCI ESG Ratings amongst industry peers. Investing sustainably helps you mitigate risks by, for instance, excluding companies that are exposed to wastewater mismanagement, have unfair labour practices or material ESG issues that are poorly managed—all of which can have a detrimental impact on their reputation and performance.
If you wish to "do good" by injecting capital in companies that have a strong focus on ESG or adopted good practices to mitigate material ESG risks, you can use MSCI ESG Ratings as an initial guide to suss out suitable investments.
Get the latest market insight and strategies according to your preferences
Download
digibank to view more options on sustainable investments
Sources:
1 Rate the Raters 2020: Investor Survey and Interview Results, by SustainAbility (an ERM Group Company – a leading global provider of environmental, health, safety, risk, social consulting and sustainability related services)