At a Glance
Optimalkan dana Anda dan pastikan Anda mendapatkan imbal hasil yang pasti dengan Deposito USD dari DBS Treasures. Sebagai bagian dari DBS Bank Group yang telah meraih Best Bank in the World 2018 (oleh Global Finance) dan Best Private Bank for Innovation 2018 (oleh PWM & The Banker), kami siap membantu Anda dalam mengembangkan aset serta meraih aspirasi finansial Anda.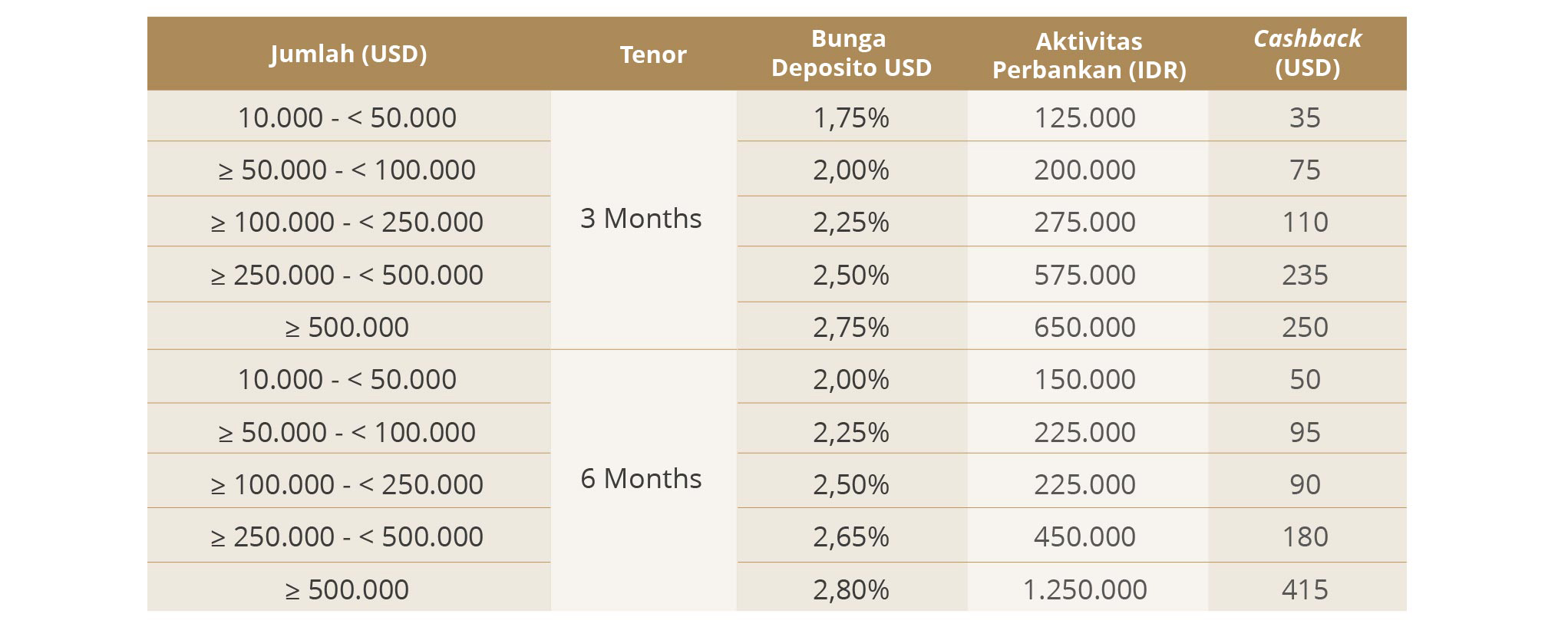 Syarat & Ketentuan:

Periode program berlaku hingga 30 Juni 2019.
Berlaku untuk Nasabah baru dan Nasabah existing.
Dana yang ditempatkan untuk Deposito USD merupakan dana baru yang berasal dari luar Bank DBS Indonesia dan bukan merupakan pencairan dari Deposito jatuh tempo serta produk WM atau pemindahbukuan. Cash reward akan diberikan apabila Nasabah sudah memenuhi persyaratan aktivitas perbankan (transfer ke rekening tabungan Rupiah).
Cash reward akan dikreditkan ke rekening tabungan mata uang USD dan tidak bisa dikonversikan ke mata uang rupiah yang dikreditkan pada tanggal 25 di bulan berikutnya.
Bunga deposito yang dijamin oleh LPS adalah 7% untuk mata uang Rupiah dan 2,25% untuk mata uang USD.