The Indonesian government announced an increase of non-subsidized fuel effective immediately on October 10 by an average 16%.
The Indonesian government announced an increase of non-subsidized fuel effective immediately on October 10. The increase by far is the largest increase this year, and marks the 4th increase this year.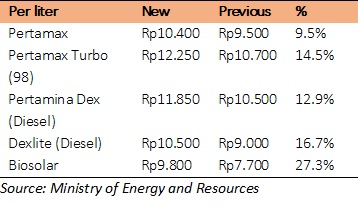 What's the impact?

The impact on inflation will still be modest
. Pertamax series accounts for less than 30% of total fuel consumption, while total fuel is 3% of the CPI basket. We estimate the potential impact to be lower than 0.3ppt in the monthly yoy inflation. Moreover, the impact to inflation will be more muted as substitution effect comes into play as the price wedge between Pertamax series and Pertalite-Premium gets larger.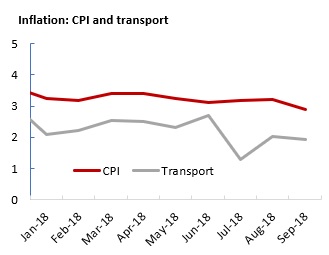 Source: BPS, CEIC
The previous price increases earlier this year (January, February, July) did not affect inflation significantly. Assuming stable food inflation and no more fuel price hike for the rest of the year, we maintain our 2018 inflation forecast at 3.6%, with more risk to the downside – way below BI's upper bound (3.5±1%).
This policy measures alone would not tame the CAD significantly
. First, these fuel categories have less elastic demand. Second, even if higher price has some effect on demand, the proportion is small. Wider price increase in other fuel categories is needed to warrant a more significant impact on CAD.
Still, this move is positive overall
as it addresses some growing uncertainties in the domestic oil market. First, there was considerable concern that Pertamina's balance sheet was deteriorating as it was running growing operating losses. Second, concerns about fiscal slippage was rising as the government would have been compelled to recognise some of the losses. Note that much more remains to be done as far as subsidized fuel prices are concerned. Crude oil price has increased by 35% this year, while Pertamax and Pertamina Dex prices increased by 21% and 28%, respectively. But the majority of oil products prices have been unchanged: Premium remains fixed and Pertalite has increased by only 2.6%.
BI-MAS swap and repo line

On the side-line of the ongoing IMF meetings in Bali, we are pleased to see the announcement that Bank Indonesia is working on a USD10bn swap and repo arrangement with the Monetary Authority of Singapore.
This is a highly positive and encouraging development. We have long called for resource pooling in Asia, so that Asian economies can mitigate global liquidity risks and market volatility with regional safeguards.
In the aftermath of the 2008 global financial crisis, the US Federal Reserve arranged multi-billion dollar swap lines for several developed and developing economies, which had considerable impact in calming overshooting sentiments. We welcome MAS's leadership role in doing something similar at a time when global markets are experiencing a fairly high degree of stress.
We are sure this will be of enormous benefit to Indonesia, and by virtue of assisting the market stabilisation of one of the largest economies of Asia, Singapore's highly open and regionally integrated economy will benefit as well.
Cumulatively, while these measures are encouraging, the scale of contraction in imports might disappoint. With fuel price deregulation still not on the cards, a sustained corrected in the trade balance and by extension the current account deficit is unlikely. We retain our estimate of 2018 CAD at -2.5% of GDP.
Apart from the real sector, several markets-driven measures have also been introduced in recent weeks. These included a) introduction of hedging tools, b) proposal to introduce domestic non-deliverable forwards, c) seeking exporters to keep half of their earnings in the country and convert these into rupiah, and d) considering tax benefits to attract dollar conversion. Separately, the government has also emphasised on existing bilateral currency swaps and foreign reserves buffer as available resources to defend against any escalation in global volatility.
In all, the government and the central bank have undertaken cohesive steps to ensure market and rupiah stability.
The rates outlook depends on global developments and given our assumption that the markets are underestimating the fallout of the US-China trade dispute and the US rate hike trajectory. We expect one more 25bps hike in 4Q18, with more likely next year if the risk environment remains challenging.
To read the full report, click here to
Download the PDF
.