SGD rates outperformance versus USD rates can continue.
SGD rates should do relatively well
Fears of potential easing from the Monetary Authority of Singapore (MAS) in October negatively impacting SGD interest rates are overdone
. The litany of bad economic numbers has prompted many participants to factor in a slower path of SGD NEER appreciation (currently estimated to be around 1% per annum) when the MAS meets in about one month's time. Accordingly, the SGD NEER has drifted closer to the midpoint of the policy band over the past few months. Meanwhile, tight liquidity and fears of further SGD weakness have kept SGD rates elevated relative to USD rates.
Conditions have aligned for further outperformance in SGD rates
over USD rates and we lay out our reasons below.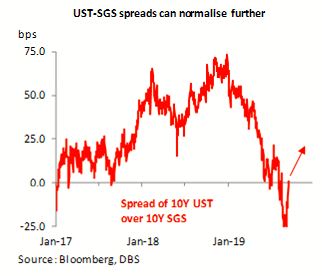 First, the SGD NEER is now closer to the midpoint of the estimated policy band
(not hugging the top) as easing gets priced in. Therefore, if the MAS eases (flattens the slope), any reaction should be muted. It would probably require a much more dovish stance from the MAS to drive SGD interest rates higher. Theoretically, the SGD NEER could push to the bottom of the trading band if risk aversion hits. However, this does not seem likely in the immediate few weeks as the global narrative improves.
Second, the basket of currencies in the NEER matters.
Generally, if Asia FX strengthens versus the USD, the SGD tends to follow along. The China-US trade thaw have eased immediate fears of RMB weakness, and this should have positive spillover on Asia FX, indirectly putting downward pressure on SGD interest rates.
Third, SGD rates are elevated due to still somewhat tight liquidity
heading into the quarter end. However, this seasonal effect should fade in early October. Seeking to avoid a potential rise in DM rates in a better risk-taking environment, investors might take refuge in relatively high SGD rates (compared to DM peers).
Implications for investors

-SGSs look ripe for outperform USTs across multiple tenors. Some of this has played out, but we think more is to come. This view can also be expressed via IRSs.
-SGS-swap spreads have normalised a fair amount of the past couple of weeks. SGSs are no longer as compelling a buy versus similar tenor swaps.
To read the full report, click here to
Download the PDF
.